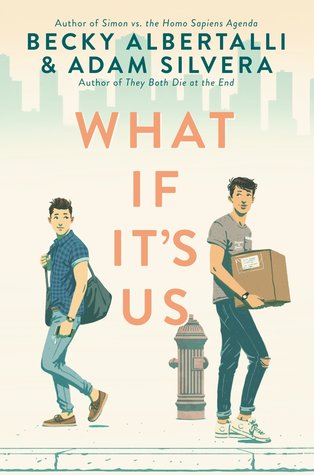 What If It's Us
by Becky Albertalli & Adam Silvera
To Be Published: October 9, 2018
by HarperTeen
Arthur is only in New York for the summer, but if Broadway has taught him anything, it's that the universe can deliver a showstopping romance when you least expect it.
Ben thinks the universe needs to mind its business. If the universe had his back, he wouldn't be on his way to the post office carrying a box of his ex-boyfriend's things.
But when Arthur and Ben meet-cute at the post office, what exactly does the universe have in store for them?
Maybe nothing. After all, they get separated. Maybe everything. After all, they get reunited. But what if they can't quite nail a first date . . . or a second first date . . . or a third? What if Arthur tries too hard to make it work . . . and Ben doesn't try hard enough? What if life really isn't like a Broadway play? But what if it is?
I have yet to read a book by either of these authors that I didn't love, so when I heard that they had teamed up to write what was sure to be a heartbreaking novel full of characters with depth and emotion? Instant pre-order!
Pre-ordering REALLY helps authors by creating demand for their work and increasing their first week sales. I really encourage you to pre-order if this sounds like something you want to read! To be perfectly honest, while I absolutely love supporting indie bookstores, I usually pre-order from Amazon because they guarantee that you will get the lowest price the book hits between the date you pre-order and the release date. Plus, they don't charge you until the item ships, making it super easy to support the author without spending a bunch of money upfront!
Amazon | Barnes & Noble | BookPeople