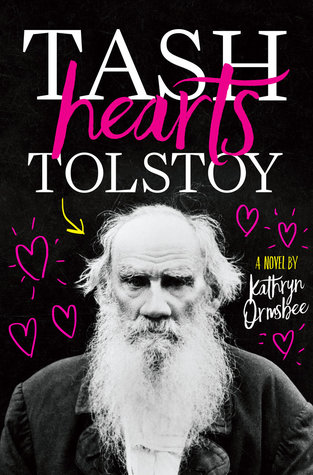 Tash Hearts Tolstoy by Kathryn Ormsbee
Published June 6, 2017 by Simon and Schuster
Source: Purchased
After a shout-out from one of the Internet's superstar vloggers, Natasha "Tash" Zelenka finds herself and her obscure, amateur web series, Unhappy Families, thrust into the limelight: She's gone viral.
Her show is a modern adaptation of Anna Karenina—written by Tash's literary love Count Lev Nikolayevich "Leo" Tolstoy. Tash is a fan of the forty thousand new subscribers, their gushing tweets, and flashy Tumblr GIFs. Not so much the pressure to deliver the best web series ever.
And when Unhappy Families is nominated for a Golden Tuba award, Tash's cyber-flirtation with Thom Causer, a fellow award nominee, suddenly has the potential to become something IRL—if she can figure out how to tell said crush that she's romantic asexual.
Tash wants to enjoy her newfound fame, but will she lose her friends in her rise to the top? What would Tolstoy do? [summary from Goodreads]
I finished this book pretty quickly and really enjoyed reading it. The world of creating a web-series was totally new to me, and not something I had ever heard of before. It was an interesting part of the story, and I kind of wish it had been explored a little more in depth. Tell me more about basing the series, "Unhappy Families", on Anna Karenina and how to tell the same story in a modern day setting! More about coming up with a script and finding actors and making it all happen!
Tash was relateable on so many levels. She deals with unexpected family news, her sister moving out and heading to college out of state, and her best friend's dad is going through cancer. She practices Buddhism, which is really cool, and I think she is the only Buddhist YA character I know of!
Tash also describes herself as asexual, meaning that while she does form romantic relationships, she is not interested in sexual relationships. This causes a bit of tension between her and another (super horrible, shitty person) character who I won't spoil for you. This is the first book I have read with on-the-page, very clear asexual representation. It's obviously super important for more books with ace characters to be published as Tash's experience won't match everyone else's who identifies on the ace spectrum (that's why it's a spectrum, y'all), but I thought it was very good representation and have heard the same from other people who do identify in the same ways as Tash.
I really enjoyed reading about Tash's journey – she grows a lot in this novel and ended up in a really good place. She realizes she hasn't been a great friend, and then she does better. She is true to herself and knows who she is doesn't waver from her ideals even when they are met with adversity. I cared about her character and wanted to see her happy, and I'm really glad that the ending delivered that. While I never was very invested in the romance that ends up happening, I did really enjoy the friendship and family dynamics that were explored very well. Overall, I give this book a solid 4 stars! The only thing I would have liked to see more of is L-O-V-E but then again I get that not EVERY story needs a romance angle BUT it's still my favorite.
Get your copy here!
Have you read Tash Hearts Tolstoy yet? What were your thoughts?