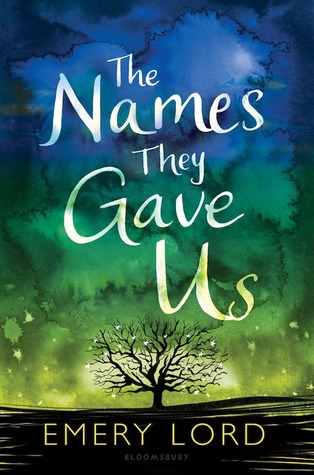 The Names They Gave Us
by Emery Lord
Published May 16, 2017 by Bloomsbury

Source: Purchased
---
Everything is going right for Lucy Hansson, until her mom's cancer reappears. Just like that, Lucy breaks with all the constants in her life: her do-good boyfriend, her steady faith, even her longtime summer church camp job.
Instead, Lucy lands at a camp for kids who have been through tough times. As a counselor, Lucy is in over her head and longs to be with her parents across the lake. But that's before she gets to know her coworkers, who are as loving and unafraid as she so desperately wants to be.
It's not just new friends that Lucy discovers at camp—more than one old secret is revealed along the way. In fact, maybe there's much more to her family and her faith than Lucy ever realized. [summary from Goodreads]
Emery Lord has been one of my favorite authors for a while now, but this book really just cemented her into YA royalty. This is one of those rare books that is so perfect in every way that you just…don't really know what to say about it other than it will make you feel. so. much. 
Lucy finds herself starting off the summer freshly dumped and questioning her faith after learning that her mom's cancer has come back. Religion and cancer can be topics that immediately turn people off to a book, but I assure that this book is neither a "cancer book" nor a religious book. Lucy's faith is explored in an honest and complex way as she tries to navigate believing and trusting in God (in a totally progressive way) alongside wrestling with questions like how God could allow her mom to get sick again. I found the doubt she experienced totally realistic and a great aspect of the story.
The setting and characters of this book were all so absolutely perfect. I am obsessed with Camp Daybreak and wish I could spend a summer there myself. I loved the family of camp counselors that Lucy found herself a part of. Every character added something really special to the story and I just fell absolutely in love with everyone.
If you haven't jumped onto the Emery Lord fan-wagon yet, then you have no idea what you're missing out on. And if you have read her, well, then you know! She's writes with a phenomenal voice that pulls you deeply into the story. Seriously…by the last page, I am so not ready to leave! To anyone and everyone who is reading this post: read this book. You will be glad you did.
Like I said above, this is my absolute favorite new Emery Lord novel. It is the perfect mix of summery contemporary feels with a story that will make you laugh, cry, and wish you were spending your days with Lucy at camp. Must read!