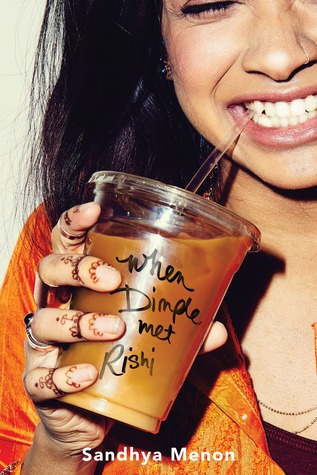 When Dimple Met Rishi
by Stacey Lee
Published May 30, 2017 by Simon Pulse
320 pages
Amazon | B&N
Source: ARC – Won Through Giveaway
---
Dimple Shah has it all figured out. With graduation behind her, she's more than ready for a break from her family, from Mamma's inexplicable obsession with her finding the "Ideal Indian Husband." Ugh. Dimple knows they must respect her principles on some level, though. If they truly believed she needed a husband right now, they wouldn't have paid for her to attend a summer program for aspiring web developers…right?
Rishi Patel is a hopeless romantic. So when his parents tell him that his future wife will be attending the same summer program as him—wherein he'll have to woo her—he's totally on board. Because as silly as it sounds to most people in his life, Rishi wants to be arranged, believes in the power of tradition, stability, and being a part of something much bigger than himself.
The Shahs and Patels didn't mean to start turning the wheels on this "suggested arrangement" so early in their children's lives, but when they noticed them both gravitate toward the same summer program, they figured, Why not?
Dimple and Rishi may think they have each other figured out. But when opposites clash, love works hard to prove itself in the most unexpected ways. [Goodreads]
I'm not even sure to begin with how much I LOVED this book. It's one of those times where the hype totally lives up to the actual amazing-ness of the story. It's full of diversity (even more than the the Indian main characters!) and I loved seeing the romance unfold between Dimple and Rishi.
Rishi shows up at Insomnia Con expecting to hit the ground running with Dimple, but she is not at all on board with their parents' plot to set them up in an arranged marriage. They end up paired up for the summer and as they are forced to spend time together, realize that they are starting to fall for each other for real. Dimple totally tries to stop herself from letting her feelings show because she doesn't want to get married (maybe ever), but definitely not to the guy her parents chose for her. The ensuing moments that Rishi wins her over are totally adorable and their banter is super cute and funny.
If you are looking for a summery book that will make your heart happy, this is it. It's heartwarming and wonderful and everything I love about contemporary YA. Sandhya Menon has written a wonderful debut novel – she will be an auto-buy author, for sure
Are you planning to read this one? If you already have, did you love it too?