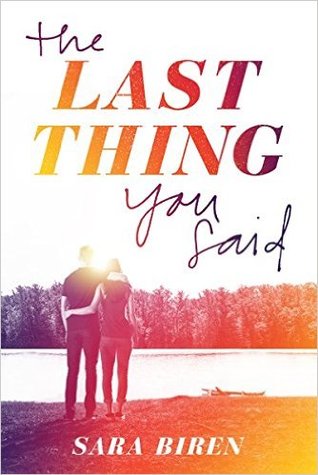 The Last Thing You Said
by Sara Biren
Published April 4, 2017 by Amulet Books
320 pages
Source: eARC received from the publisher
*All thoughts are my own! Thank you to the publisher for the early review copy.
---
Last summer, Lucy's and Ben's lives changed in an instant. One moment, they were shyly flirting on a lake raft, finally about to admit their feelings to each other after years of yearning. In the next, Trixie—Lucy's best friend and Ben's sister—was gone, her heart giving out during a routine swim. And just like that, the idyllic world they knew turned upside down, and the would-be couple drifted apart, swallowed up by their grief. Now it's a year later in their small lake town, and as the anniversary of Trixie's death looms, Lucy and Ben's undeniable connection pulls them back together. They can't change what happened the day they lost Trixie, but the summer might finally bring them closer to healing—and to each other.
This was a bit of a slow-burn story that totally paid off. It reminded me a lot of Second Chance Summer by Morgan Matson (but not quite as sad). It's about navigating between grief and hope and being stuck in between the two. I love summer love stories, and this is one of the best I've read in a long time. It's much more character-driven than plot, but the cast of characters are enjoyable and relateable. Even when Ben is being an asshole, you totally understand why.
TLTYS is a fantastic debut and I can't wait to see what comes next from this author! I LOVE when the setting becomes its own character, and that is done so well in Ben and Lucy's lakeside Minnesota town. Their parents are present and fully part of the story, which is refreshing as well. I totally recommend this story to lovers of summery YA romance. It's going down as one of my 2017 favorites!