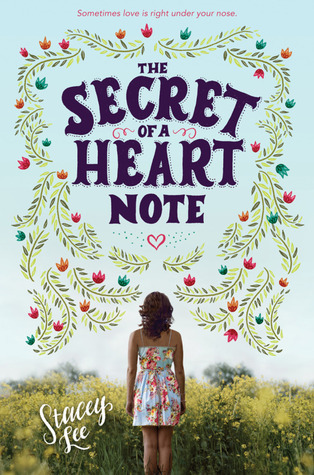 The Secret of a Heart Note
by Stacey Lee
Published December 27, 2016 by Katherine Tegen Books
384 pages
Amazon | B&N
Source: Purchased
---
As one of only two aromateurs left on the planet, fifteen-year-old Mimosa knows what her future holds: a lifetime of using her extraordinary sense of smell to mix base notes, top notes, and heart notes into elixirs that help others fall in love. All while remaining incurably alone.
For Mim, the rules are clear—falling in love would render her nose useless, taking away her one great talent. Still, Mimosa doesn't want to spend her life elbow-deep in soil and begonias. She dreams of a normal high school existence—taking up a sport and limping away flush from victory, joining the debate club and saying things like "That's a logical fallacy!" Having a boyfriend.
When she accidentally gives an elixir to the wrong woman and has to rely on the school soccer star to help fix the situation, Mim quickly begins to realize that when it comes to falling in love, the choice isn't always hers to make.[Goodreads]
The Secret of a Heart Note is about Mimosa (Mim) and her mom (Dahlia), the last two aromateurs in the world, as they create custom love elixirs for people who want to fall in love. Mim lives a very strict and sheltered life so that she can preserve her nose and learn everything there is to know about plants and their properties so that she can create the perfect love potion for each client. The most important rule, however, is not to fall in love herself, as her powers would be sure to vanish instantly.
Of course, this presents quite the dilemma because there is a basketball player at school, Court (dumb name, cute boy), who she thinks is cute, and she thinks he might like her back. It's a fun twist on the forbidden love trope.
Although there is an overarching theme of love in the story, it doesn't focus solely on the romance between Mim and Court. There is a struggle between Mim, who wants to go to school and have a normal teenage life, and her mother, who only wants the best for her daughter –as long as it is a future in the aromateur business. Plus, there is the long-lost sister of Mim's mother, Bryony, who disappeared after a rift in the family.
Side Note: I LOVED how all the aromateurs' names were types of flowers. It was lovely. Plus, there were cute and fitting "quotes" from aromateurs of the past at the start of each chapter, which made it all feel very real.
Court was more than a pretty face, too. He had his own family problems going on but it wasn't overly dramatic. It all felt very real. I liked how Mim had multiple problems come up during the story, but instead of angsting over them, she actually went out and did something about them!
I thought it was interesting that everyone at school knew that Mim was a "love witch" and it wasn't ever anything for her to be ashamed about. There are also bonus points for diversity! Mim's best friend, Kali, is Samoan and LGBT!
Overall, The Secret of a Heart Note was a fun contemporary romance without too much romance and just the right touch of magical realism. It lived up to its unique premise and the whole book had such a pretty atmosphere. I definitely enjoyed reading it and will be checking out Stacey Lee's two other books as well!
Are you planning to read this one? If you already have, did you love it too?