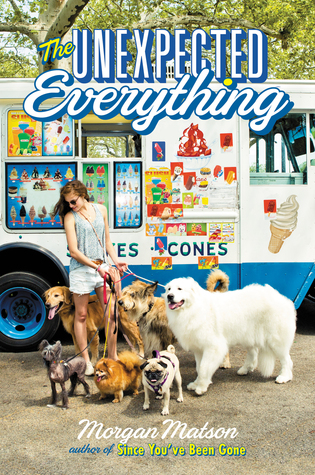 The Unexpected Everything
by Morgan Matson
Published April 5, 2016 by Delacorte Press
336 pages
Amazon | B&N

Source: Purchased
---

Andie is the type of girl to plan everything out and keep her life totally under control. The daughter of a politician, she makes sure everything she does reflects on her father in a positive way, and is a total over-achiever. She likes to date a variety of guys…as long as it's not for more than three weeks, and never lets it get serious. Then her father becomes the center of a nationally publicized political scandal, and everything changes. Suddenly she doesn't have her perfect internship lined up, so her whole summer is unplanned. But sometimes when the unexpected happens, you find everything you needed.
Morgan Matson is my absolute favorite author, and The Unexpected Everything is her best book. Quite a statement to make, but I'm staying it anyway.
Because Andie and her father are in the public eye so much, she has to be super careful about who she hangs out with , what she does at parties, and what she even posts online. When her father is involved in a scandal, she loses everything she planned. Her hard-earned internship at Johns Hopkins goes out the window, and suddenly she doesn't know what to do with herself for an entire summer — something she's never had to deal with before.
She finds a summer job walking dogs out of desperation, as there are no 'good' internships left by the time summer is starting, but I'm so glad she did because it totally changes her life. She meets an adorable boy named Clark while working, and I LOVE that their first meeting involves dogs, because hello, dogs are the BEST.
And can I just talk about Clark for a moment?! *HEART-EYES EMOJI* He is my FAVORITE Matson love interest for sure. I loved that he is a sorta dorky fantasy novel writer, similar to someone like George RR Martin (Game of Thrones) but college-age and HOT.
I loved how the story didn't end with Andie and Clark finally getting together — that part happens much earlier on than in most books. I'm used to spending the whole book just pining for them to love each other and be together, but this time we get a whole book of that part!
Besides the romance aspect of the book, Matson also does such a great job showcasing a wonderful group of friends that I totally want to be a part of. Each girl in the group was well-rounded, had her own personality, and contributed something special to the novel.
I LOVED that this book had such great portrayals of both super-sweet romances and wonderful female friendships (something that can get lost in romancey novels). This is a total 5 star read that I couldn't put down, and makes a perfect summertime read.