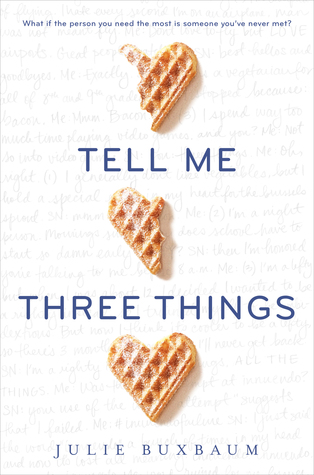 Tell Me Three Things
by Julie Buxbaum
Published April 5, 2016 by Delacorte Press
336 pages
Amazon | B&N

Source: Purchased
---
When Jessie's father spontaneously elopes with a woman from Los Angeles, Jessie's life is uprooted as she moves across the country to LA for her junior year. Jessie is quite unhappy to be living with her new stepmother and stepbrother who she doesn't even know, and isn't thrilled to start attending a fancy private school full of rich people. So on her first day, when she begins receiving anonymous emails from Someone/No One (SN), she is grateful for a friend, even if she doesn't know that is.
I totally called who SN would be right from the get-to.
That didn't stop me at all from absolutely falling in love with this book.
I loved the instant messaging-style of writing in this book. It doesn't always work for me, but it's done extremely well here.
The storyline is pretty simple, actually, but it totally works and still feels fresh and interesting. As someone who moved around a lot during my school years, I completely identified with Jessie's fears of not fitting in, her anxiety about where to eat lunch, and her longing to make meaningful friendships while still maintaining those from her previous life in Chicago.
I really enjoyed the anonymous messaging back and forth between Jessie and SN. It's a fun way to build their relationship dynamic and helps them become closer over a shorter period of time, because it's so much easier for both of them to be their real selves over writing than in person.
I loved that one of the central plot lines in the story revolves around an English project (yay, reading!) and a cute boy that she gets to be partners with. There's also ANOTHER cure boy who's in a band, and a great girl named Dri who ends up being a really great friend for Jessie.
I loved all of the characters and the role they each played in helping Jessie to come out of her shell and enjoy life in LA.The ending is super-satisfying and I'm so happy with who SN turned out to be! I won't say anything more about it, but this is a super fun read and I'm so glad I picked it up.