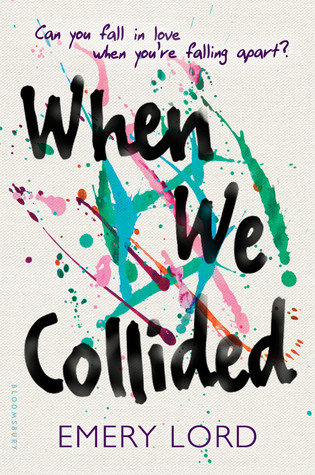 When We Collided
by Emery Lord
Published April 5, 2016 by Bloomsbury USA Childrens
352 pages
Amazon | B&N

Source: Purchased
---
Vivi and Jonah meet in the small town of Verona Cove, California. It's a picturesque summer town on the northern California coast, where people are either vacationers or 'townies' who you've known your whole life. Jonah is a townie with a huge family, who recently lost his father and is now responsible for caring for his three younger siblings. Vivi is staying in town for the summer while her mother paints, and is Jonah's opposite in so many ways. She is a loud, take-charge, force of nature, who sweeps Jonah up into her path (with little say from him). Jonah is soon along for the ride as Vivi deals with her secret mental health issues over the summer.
Emery Lord is an auto-buy author for me, and I knew When We Collided would be anything but a disappointment. It's definitely a heavier book than her first two were, and while it does cover the very serious topics of mental health and grieving the loss of a family member, there is also a whirlwind romance that you will get swept up into just as much as Jonah and Vivi did.
Jonah and Vivi are two polar opposite characters. Jonah is quieter and more focused. He is dealing with the loss of his father and the subsequent depression that keeps his mother from taking care of her six children. He's trying to keep his father's restaurant afloat and is doing the best he can to pay the bills, care for his younger siblings, and help his mother. Vivi, on the other hand, is a bright ball of light that came barreling into the story. She moved into town after a bad decision caused some major friend drama in her hometown, and refuses to be ignored with her bright red lips and eclectic fashion taste. When she meets Jonah at the pottery shop where she works, she seems to just decide that Jonah would be part of her summer and he gets swept along into her life.
I know many people have described Vivi and Jonah's romance as instalove, but I didn't see it that way. It does happen very quickly, but I can totally see Jonah's character kind of 'going along' with Vivi — she's beautiful and new and interesting and something to take his mind off the stresses of his own life.
I liked that the reader doesn't really know what is going on with Vivi's health until the end. We know that she is supposed to be taking pills every day (which she's not), but we don't know why. This really allows you to get a picture of the way bipolar disorder affects Vivi, and how it changes her personality and alters her choices.
I feel as though I learned so much about mental health and bipolar disorder through this book. Yes, Vivi is overwhelming. No, she's not someone I would want to be around all the time. But that is what made her real and why I breezed through this hefty novel in two sittings. I had to find out what happened to her and Jonah, and I got just as caught up in the whirlwind that is her life as Jonah did.
Emery Lord is a master of words and the writing in this novel is absolutely beautiful. This is Lord's best and most important book to date. It opens up such great conversation about mental health, and is a groundbreaking book in YA. I am a better and more educated person for having read this book.