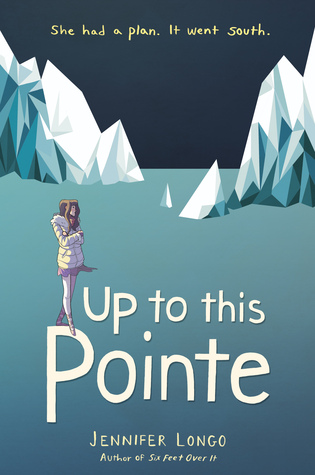 Up To This Pointe
by Jennifer Longo
Published January 19, 2016 by Random House Books for Young Readers
368 pages
Amazon | B&N

Source: Public Library
---
Harper lives and breathes ballet. She spends hours a day in rehearsal, and when she's not rehearsing, she's teaching classes for younger girls so that she can afford the tuition for her own classes. Her plan is that one day she and her best friend Kate will be professional dancers with the San Francisco Ballet. It's a dream Harper has had since she was tiny, and she would do anything to make it happen. A few months before the auditions for the SF Ballet, Harper is told that she will never make it as a professional dancer, and ends up running away to Antarctica to "winter over" as a science assistant and process her grief.
I LOVE ballet and was so excited to find this book. I loved Harper's character — she was witty and likable and so hardworking. The author does such a great job of really immersing you in Harper's world so that you understand just how devoted she is to dancing.
When Harper was first told that she just didn't have the body or natural ability to be a professional dancer, I denied those words right along with Harper. She loves ballet, she rehearses for hours, there's no way that she's not good enough. I rooted for Harper as she secretly went to auditions for ballet companies all across the Bay Area, sincerely hoping that she would get in somewhere, even though I knew that wasn't where the storyline was going.
The line that made me cry: "Number 232, you are excused from the barre." I felt Harper's rejection and defeat right along with her.
Harper is a descendant of Robert Falcon Scott, one of Antarctica's first and most famous explorers. She decides that instead of staying in San Francisco to see Kate fulfill her dreams alone, she should just take off to Antarctica to winter over — which means living and working at the McMurdo Station research base for six months of darkness and below zero temperatures.  It is here, in Antarctica's harsh and unforgiving world, that Harper finds herself again, and finds who she is apart from ballet. She develops some wonderful female friendships while she is there too.
My favorite takeaway from the book was that Harper is eventually able to continue to follow her passion for ballet, even if she isn't a professional dancer. She decides to become a ballet teacher for younger students and absolutely excels at it. Especially for younger readers, I think it's so important to hear that even if you don't go pro with your own sport or activity, that it can still be meaningful and even used throughout your adult life. After being defined by other people's expectations, critiques, and rules for her whole dancing life, Harper is finally able to find her own worth in who she is as a person.
Up To This Pointe is a very unique telling of grief, because there wasn't a big death at the beginning of the book to set it off, and no one else is going through or experiencing this trauma with Harper — she is truly at it alone. This is a great story of coming out stronger the other side, and even becoming a better person for having to deal with that pain.
I picked this book up from the public library and will most likely end up purchasing a copy of my own, because I really loved it so much. Both settings, Antarctica and San Francisco, truly come to life and act as their own characters in the novel. Harper is a wonderful and inspiring voice for readers. I absolutely recommend purchasing Up To This Pointe, and will be checking out Jennifer Longo's other books as well.