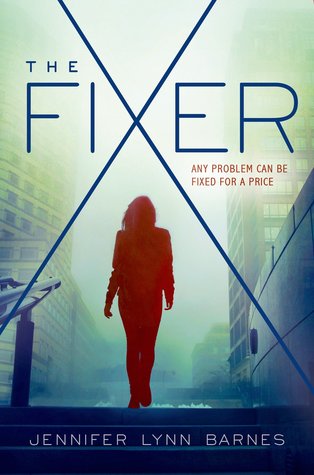 The Fixer by Jennifer Lynn Barnes
Published July 7, 2015 by Bloomsbury USA Childrens, 384 pages
Source: Public library
Sixteen-year-old Tess Kendrick has spent her entire life on her grandfather's ranch. But when her estranged sister Ivy uproots her to D.C., Tess is thrown into a world that revolves around politics and power. She also starts at Hardwicke Academy, the D.C. school for the children of the rich and powerful, where she unwittingly becomes a fixer for the high school set, fixing teens' problems the way her sister fixes their parents' problems.
And when a conspiracy surfaces that involves the family member of one of Tess's classmates, love triangles and unbelievable family secrets come to light and life gets even more interesting—and complicated—for Tess.
---
Tess Kendrick's older sister Ivy shows up at the Montana ranch where she lives with her aging grandpa and whisks Tess away to live with her in Washington, D.C. after not seeing each other/talking for years. Tess starts school at a super elite private school that's filled with the kids of White House officials and important D.C. people. and figures out that Ivy is a well-known "fixer" — she works with high-up officials to make their problems go away. Tess gets involved in a murder scandal involving one of her classmates and the drama just keeps building from there! The story is filled with murder, scandal, and political plots.
I was so excited to see a political thriller in the YA category, and The Fixer absolutely delivered on everything I was hoping for. The book was described as similar to the show Scandal (which I love), and that is a totally accurate description. If you ♥ Olivia Pope, you will ♥ Ivy & Tess. I loved that the drama and scandals weren't just limited to the first murder that happens, and you never really know who to trust. There were even moments that had me doubting the main characters! I don't think I've ever NOT guessed the outcome of a mystery in a book before the reveal, with the exception of this one, which made me love The Fixer that much more! After I finished the book, it dawned on me that there was NO romance anywhere in the book, which totally surprised me because I don't even know the last time I read/was interested in a non-kissing book. Normally that's a deal-breaker for me, but the plot of this book was so well done and fast-paced that I didn't even notice the lack of swoony boys.
The Fixer gets 5 out of 5 stars! I started & finished it last night in one sitting and LOVED the political drama. According to Goodreads, there's a sequel coming out in 2016 that I will be ALL OVER.
Have you read The Fixer yet? If so, did you love it as much as I did?