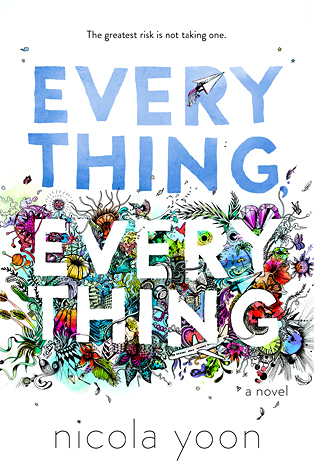 Everything, Everything by Nicola Yoon
Published September 1, 2015 by Delacorte Books for Young Readers, 320 pages
Source: I received this book from the publisher in exchange for this review. This in no way swayed my opinion of the book.
My disease is as rare as it is famous. Basically, I'm allergic to the world. I don't leave my house, have not left my house in seventeen years. The only people I ever see are my mom and my nurse, Carla.
But then one day, a moving truck arrives next door. I look out my window, and I see him. He's tall, lean and wearing all black—black T-shirt, black jeans, black sneakers, and a black knit cap that covers his hair completely. He catches me looking and stares at me. I stare right back. His name is Olly.
Maybe we can't predict the future, but we can predict some things. For example, I am certainly going to fall in love with Olly. It's almost certainly going to be a disaster.
---
Everything, Everything is finally out today (September 1st) and y'all, you are going to love it! The main character, Madeline, suffers from a super-rare disease called SCID (stands for something medical-y) and is never allowed to leave her house or have people come over, etc. I was instantly drawn to this premise because it's so different from anything else out there.
A new family moves in next door to Madeline and Olly comes into the picture. He's super sweet, caring, and understanding toward her and their cute romance develops mainly over funny and quirky emails that we get to read. I know some people weren't thrilled with the romance, thinking it was too 'instalove', but I think it works here. New kid in town has no friends yet and not much to do over summer break but chat with the girl next door? Totally plausible to me.
Although she's been inside all her life with only her mother and nurse as companions, Madeline isn't at all awkward or boring (geeky, sure, but in a good way!). The book is filled with her lists, drawings, and spoiler book reviews, which I thought were hilarious. Everything, Everything is a pretty quick read thanks mainly to it's short chapters and pages that are filled with lists — I actually read this book in one sitting! However, it's certainly not fluff reading as there are definitely serious moments associated with Madeline's disease.
The last 75% of the book literally had me on the edge of my seat. Something happens that made me audibly gasp, loud enough for my boyfriend (who was sitting next to me playing a video game) to ask what happened, and I just could not put the book down after that!
Overall, I give this book 4 out of 5 stars for being exciting, interesting and different, and for forcing me to stay up too late reading.
Have you read Everything, Everything yet? If not, will you be adding it to your TBR list?