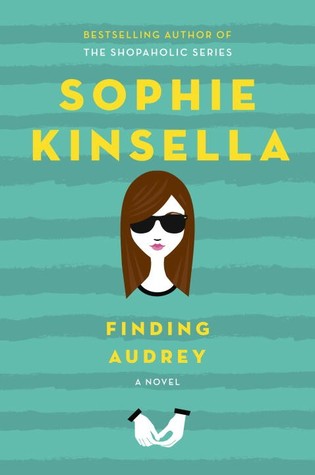 Finding Audrey, by Sophie Kinsella
Published June 9th 2015 by Delacorte Books for Young Readers, 288 pages
From the #1 New York Times bestselling author of the Shopaholic series comes a terrific blend of comedy, romance, and psychological recovery in a contemporary YA novel sure to inspire and entertain.
An anxiety disorder disrupts fourteen-year-old Audrey's daily life. She has been making slow but steady progress with Dr. Sarah, but when Audrey meets Linus, her brother's gaming teammate, she is energized. She connects with him. Audrey can talk through her fears with Linus in a way she's never been able to do with anyone before. As their friendship deepens and her recovery gains momentum, a sweet romantic connection develops, one that helps not just Audrey but also her entire family.
---
Finding Audrey was easily one of the funniest books I've read so far this year! Sophie Kinsella did a great job of illustrating a young girl dealing with not only mental illness, but also navigating her first love, a crazy (but loveable!) family, and so much more. Audrey is struggling with severe anxiety due to an incident that happened at school with a couple other girls, and is learning how to deal with that anxiety and resume functioning in her regular life.
I really loved the way her family was written as well! I was literally laughing out loud throughout the book at some of the comments her brother made or the well-meaning but over the top parenting methods her mom tries. I gobbled this book up in just a day and a half! It's a quick read, but not fluffy by any means.
Overall, Finding Audrey is a great balance of light-hearted wit and realistic issues. I absolutely loved it and would recommend it to all!